Skip Navigation
Website Accessibility
Saturday Sampler 2024 - MANDARIN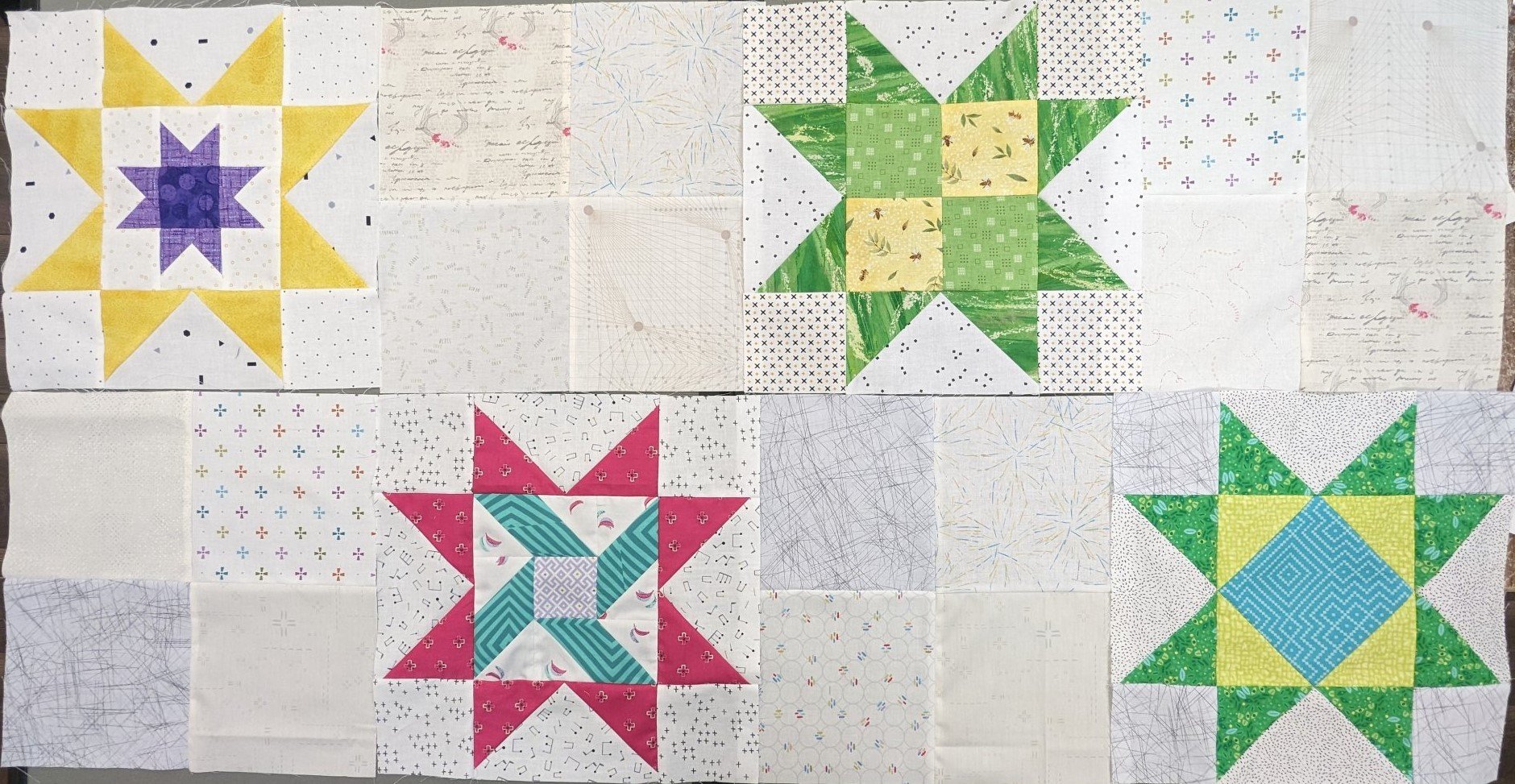 Meet at 9am or 11am on the second Saturday each month in 2024. (each session must have a minimum of 10 students to make the class)
**Please note this year the first class is moved to the first Saturday, January 6th to accommodate for North Florida Shop Hop**
This year is all about color theory! We took a poll and bright colors were a BIG request, so this will be bright, colorful and happy! But many of you ask...how do you choose colors and how do you know what goes with what? Join us as we study the color wheel and 5 color plans to make 12 fabulously fun quilt blocks! We will also have 3 additional quilt block patterns and finishing options to make a 60" x 72" quilt (additional block fabrics sold separately).

Saturday Sampler is great for new quilters as well as those with some experience!

Registration Fee: $50.00 includes pattern AND PRE-CUT block fabrics for the entire year, when you come to class. ($5 charge if you miss class, one free pass!) Registration closes on November 30th so don't delay!
This Block of the Month will run from January to December 2024.
**please note, this is only a 1 hour meeting. You will not be working on your blocks during the meeting.
Skill Details:
All Levels Welcome
Saturday Sampler 2024 - MANDARIN
Sat, Jan 6, 2024 at 9:00 am to 9:45 am
Sat, Feb 10, 2024 at 9:00 am to 9:45 am
Sat, Mar 9, 2024 at 9:00 am to 9:45 am
Sat, Apr 13, 2024 at 9:00 am to 9:45 am
Sat, May 11, 2024 at 9:00 am to 9:45 am
Sat, Jun 8, 2024 at 9:00 am to 9:45 am
Sat, Jul 13, 2024 at 9:00 am to 9:45 am
Sat, Aug 10, 2024 at 9:00 am to 9:45 am
Sat, Sep 14, 2024 at 9:00 am to 9:45 am
Sat, Oct 12, 2024 at 9:00 am to 9:45 am
Sat, Nov 9, 2024 at 9:00 am to 9:45 am
Sat, Dec 14, 2024 at 9:00 am to 9:45 am



Attendee Name:
Sat, Jan 6, 2024 at 11:00 am to 11:45 am
Sat, Feb 10, 2024 at 11:00 am to 11:45 am
Sat, Mar 9, 2024 at 11:00 am to 11:45 am
Sat, Apr 13, 2024 at 11:00 am to 11:45 am
Sat, May 11, 2024 at 11:00 am to 11:45 am
Sat, Jun 8, 2024 at 11:00 am to 11:45 am
Sat, Jul 13, 2024 at 11:00 am to 11:45 am
Sat, Aug 10, 2024 at 11:00 am to 11:45 am
Sat, Sep 14, 2024 at 11:00 am to 11:45 am
Sat, Oct 12, 2024 at 11:00 am to 11:45 am
Sat, Nov 9, 2024 at 11:00 am to 11:45 am
Sat, Dec 14, 2024 at 11:00 am to 11:45 am



Attendee Name: